Interview with Norwegian U20 national players Andrine Stolsmo Hegerberg and Ada Stolsmo Hegerberg
We want to play in the best leagues
First of all thank you for the interview. And Ada, belated best wishes for the "Young player of the year 2011" Toppserien-award – what was the best moment for you during the ceremony?
I am very proud of winning that award. It is a great event and it is a good experience to thank for the price in front of an audience of football experts. When you are given such an award you also know you can compete with the best.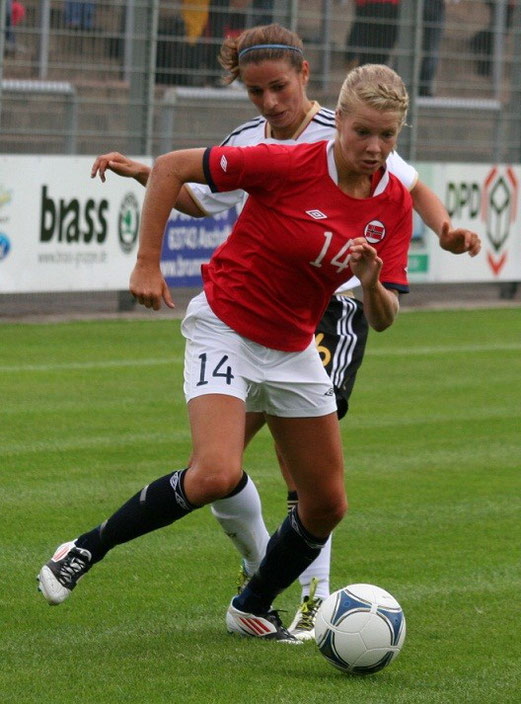 Andrine, were you surprised that she won the award?
No, not really. Ada had a great season last year where she stood out as a goalscorer with a killer instinct. She is a fearless player, which I think other players noticed.
Please tell us a little bit about yourself. Anyone watching you play football will immediately recognize your great talent. When did you start playing soccer?

Andrine: I started having fun with football at an early age. Actually, I can´t remember how old I was, but my mom has a couple of stories written down in a book where I´m in the backyard running around with a ball. My mom always jokes around saying I started play football before I could walk.

Until 2007 I´ve played on a boys team. Playing with girls was not a question at that time. I wanted to be challenged and improve myself as a football player, so playing on the girls level didn´t even cross my mind.

In 2007 we moved to Kolbotn, right outside Oslo where we started play for Kolbotn the Toppserie team.
Both our mom and dad have been playing and coaching back in their days. Our mom actually played for Trondheims-ørn and was the top scorer two years in a row. Our older brother was also playing. So this is absolutely a football family where football is a part of our daily life. All the three of them come to our matches and mom and dad follows us really close. Always coming with advise on details that can be improved. They´re definitely a key to our success so far.
Ada: In my early years I was not much interested in football, I was just a hang-around when my brother and sister were playing. But I took some part and I noticed that this was my thing. I was also playing in a boys team and we had a good player at the back who won the ball, was passing it to me up front and I scored most of the goals. When we moved to Kolbotn I played for another local girls team where I continued to score goals. I went to Kolbotn in 2009 where I had my debut on the first team in 2010 and scored my two first goals in a cup tie against Sarpsborg. I was 14 years old that time.

2011 was my first whole season at Kolbotn first team. I ended up as topscorer and Kolbotn took bronze medal in the league and reached the semi-final in the cup. So all the way my job has been scoring goals.
Just before last Christmas 2011 you have moved over to Stabæk FK. From your point of view, where were you able to improve your game during this period?
Ada: For us it was a correct decision to go to Stabæk because we believed the competition in Stabæk was at a higher level than Kolbotn and that would be a contribution to our development. Stabæk is as organization also better run than Kolbotn That means that we can concentrate 100% on the game.
Andrine: We both have very high expectations to ourselves and our team. We want to be the best at every time. We didn´t see it possible in Kolbotn to develop our self to a higher level that we´re searching for. Stabæk had a much better offer. Our time in Kolbotn was great, but we have never regretted our move to Stabæk.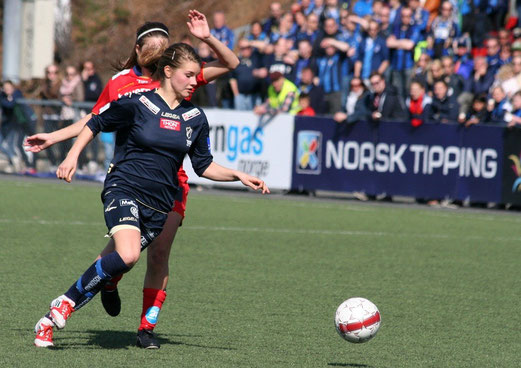 Looking back on last season at Kolbotn: Your former team was very disappointed after the season's start, and at the end has still achieved an outstanding 3rd place. Haven't you expected this success?
Andrine and Ada: No, we didn't expect that. We had few players in the squad, but we trained in the way that gave us few injuries and we managed to establish a medal team. We were very good and beat the best teams in the league, but lost points against teams positioned at the lower part of the table. Winning the league became to difficult when we had such a lousy start if the season.
Ada, you have reached the unbelievable number of 22 goals (after 15 tornament days), and you are currently leading the goal scorers' list of top series. Haven't you expected it? (See goal scorers)
I did not expect it, but I was going for it. I have been practicing details for years now. You always get your chances and the point is not to blow them. The more goals I score the better it is for Stabæk.
Let us talk about FIFA U20 Women's World Cup – what does it mean to you to take part in a World Cup?
Ada: It means a lot to meet and compete all of the best players in the world U20. If we could recreate last year success it would be great.
Andrine: I think its important to qualify to championships. Especially as a female football player. As many know the economy in men´s and women´s football is not comparable, at least not in Norway. So it is the inner motivation that keeps us going, not motivation for the next money bonus, not that we´re on TV and so on. We have a real passion for the game.
Participating the U20 women´s world cup is absolutely a huge motivation for us!
This is for many of this is the first time to participate in a world cup, so this is new experience.
New opponents, new country, new cultures, live broadcasting and so on. We have to be prepared for every situation.
Taking football to a new level is of course a motivation in it self. The last month we have been extremely aware of every detail in our work – training, diets, sleep etc. Every prospect of our game have to be at it´s sharpest.
What do you think of Norway's group which features North Korea, Canada and Argentina?
Andrine: It´s hard to say. Here, again, we meet a new challenge. We have never played against any of the teams before. Considering that we´re know in a world cup, every team is at a high level. Every opponent is a tough opponent. Our focus is to play our same game and take 3 points in every game.
Ada: We don't know much about them, but we consider every team as a serious opponent and we must do our best to achieve 3 points in every game. First of all we have to concentrate on getting through the qualifying rounds.
What are you looking forward to most at the FIFA U20-Women's Cup, and what are you expecting from the tournament?
Ada: I am looking forward to play in front of a great Japanese audience, which will inspire me enormously.

I am not so much thinking of the final results. We are there to perform 100% both on and off the field. If we do a good job there then the good results will follow.
Andrine: I got high expectations, both for my self and my team and as well as the arrangement.

I hope we manage to perform at a high level that we can make it far. We know our skills, no is the time to show them to the rest of the world.

I also hope there will be many spectators and a great atmosphere!
Now still a last question: You have got with your former club (Kolbotn) three times in a row Toppserien Bronze-Medal and with the Norwegian national team at the U19 European Championship 2011 in Italy reached the final. What are your dreams for your further career?
Andrine and Ada: To be honest we want to play in the best leagues and at the moment we consider German Bundesliga as the best league.
Thank you again. FFN-Team wishes you good luck!